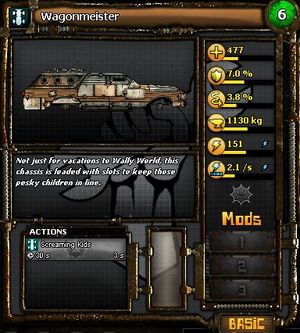 This chassis is needed for the
Battlemeister
achievement.
Statistics
Edit
TP: 6
APM: 20
Health: 477
Armor: 7%
Evasion: 3.8%
Weight: 1130 kg
Energy: 151
Regen: 2.1/sec
Weapon: 2
Turret: 1
Attachment: 1
Engine: 1
Screaming Kids - Very Fast Execution
Oww! It punches right through the craft to the opponent's eardrum dealing increasing damage over time.
Cast Time: 3 seconds
Cooldown: 30 seconds
Flavor Text
Edit
Not just for vacations to the Wally World, the chassis is loaded with slots to keep those pesky children in line.
Ad blocker interference detected!
Wikia is a free-to-use site that makes money from advertising. We have a modified experience for viewers using ad blockers

Wikia is not accessible if you've made further modifications. Remove the custom ad blocker rule(s) and the page will load as expected.