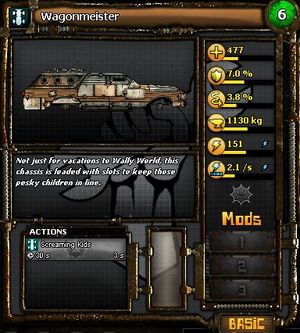 This chassis is needed for the
Battlemeister
achievement.
Statistics
Edit
TP: 6
APM: 20
Health: 477
Armor: 7%
Evasion: 3.8%
Weight: 1130 kg
Energy: 151
Regen: 2.1/sec
Weapon: 2
Turret: 1
Attachment: 1
Engine: 1
Screaming Kids - Very Fast Execution
Oww! It punches right through the craft to the opponent's eardrum dealing increasing damage over time.
Cast Time: 3 seconds
Cooldown: 30 seconds
Flavor Text
Edit
Not just for vacations to the Wally World, the chassis is loaded with slots to keep those pesky children in line.