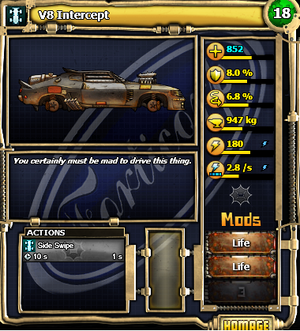 This chassis is needed for the Madness! achievement.

V8 Intercept is part of the Homage Bundle.
Statistics
Edit
TP: 18
Health: 710
Armor: 8%
Evasion: 6.8%
Weight: 947 kg
Energy: 180
Regen: 2.8/s
Weapon: 2
Turret: 1
Attachment: 1
Engine: 1
Swide Swipe - Very Slow Execution
You side swipe the opponent dealing 5% of your weight in damage to them and lower their accuracy by 10% for 5 seconds.
Cast Time: 1 Second
Cool Down: 10 Seconds
Flavor Text
Edit
You certainly must be mad to drive this thing.