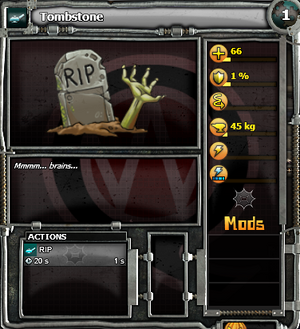 The Tombstone is part of the Halloween Bundle.
Statistics
Edit
TP Cost: 1
Health: 66
Armor: 1%
Weight: 45 kg
RIP - Very Slow Execution
RIP has a 50% chance to do nothing, 30% chance to inflict the opponent with a curse. 10% chance to cut the opponents HP in half and a 10% chance to cut your HP in half.
Cast Time: 1 second
Cooldown: 20 seconds
Flavor Text
Edit
Mmmm... brains...