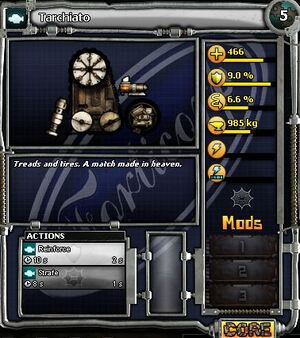 Statistics
Edit
TP Cost: 5
Health: 466
Armor: 9%
Evasion: 6.6%
Weight: 985 kg
Reinforce - Interruptible Execution
Armor +25% for 15 seconds.
Casting Time: 2 Seconds
Cooldown: 10 Seconds
Strafe - Very Slow Execution
You gain +15% chance to deal a critical hit dealing 1.5X damage for the next 5 hits.
Casting Time: 1 Second
Cooldown: 8 Seconds
Flavor Text
Edit
"Tread and tires. A match made in heaven."