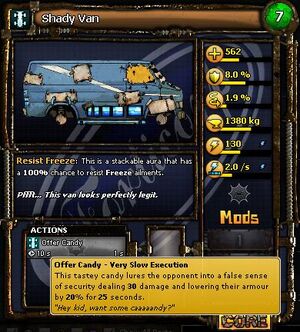 Statistics
Edit
TP: 7
Health: 562
Armor: 8%
Evasion: 1.9%
Weight: 1380 kg
Energy: 130
Regen: 2/s
Weapon: 1
Turret: 1
Attachment: 1
Engine: 1
Resist Freeze: This is a stackable aura that has a 100% chance to resist Freeze ailments.
Offer Candy - Very Slow Execution
This tastey candy lures the opponent into a false sense of security dealing 30 damage and lowering their armour by 20% for 25 seconds.
"Hey kid, want some caaaaandy?"
Cast Time: 1 second
Cooldown: 10 seconds
Flavor Text
Edit
Pffft... This van looks perfectly legit.