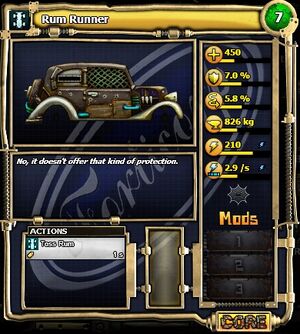 Statistics
Edit
TP: 7
Health: 450
Armor: 7%
Evasion: 5%
Weight: 826 kg
Energy: 210
Energy Regeneration: 2/s
Ammo: 2
Weapon: 2
Turret: 1
Attachment: 0
Engine: 1
Toss Rum - Very Slow Execution
You toss your bootleg rum at the opponent lowering their accuracy by 75% for 5 seconds and increasing your speed by 1 second for 20 seconds.
Cast Time: 1 second
Cost: 1 ammo
Flavor Text
Edit
No, it doesn't offer that kind of protection.
The chassis is a reference to Rum-running.