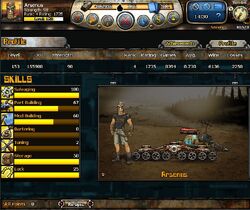 Avatar
The Pilot in Junk Wars represents you. To customize your avatar click on the avatar icon. This will open up a customization screen where you can pimp your character. You can view your pilot and profile by clicking on your name in the top-left corner of the game interface. View others' profiles by clicking on their username in various areas of the game (user list, auction, etc).
Avatar Info
Left of the top navigation bar are:

Above the top navigation bar are:

Right of the top navigation bar are:
Profile Tab
The profile tab shows (visible to other pilots as well):

Your various Achievements can be viewed in their own tab.
Ad blocker interference detected!
Wikia is a free-to-use site that makes money from advertising. We have a modified experience for viewers using ad blockers

Wikia is not accessible if you've made further modifications. Remove the custom ad blocker rule(s) and the page will load as expected.