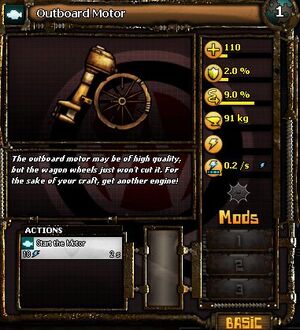 This part is needed for the Putt putt putt achievement.
Statistics
Edit
TP Cost: 1
Health: 110
Armor: 2%
Evasion: 9%
Weight: 91 kg
Regen: 0.2/s
Start the Motor - Very Slow Execution
Your craft has 50% chance to increase or decrease piston speed by 0.5s for 30 seconds.
Cast Time: 2 Seconds
Cost: 18 Energy
Flavor Text
Edit
The outboard motor may be of high quality, but the wagon wheels just won't cut it. For the sake of your craft, get another engine.