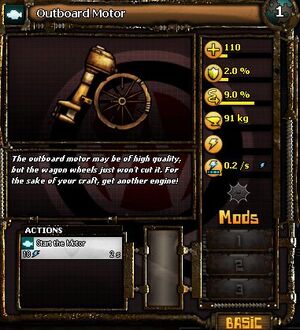 This part is needed for the Putt putt putt achievement.
Statistics
Edit
TP Cost: 1
Health: 110
Armor: 2%
Evasion: 9%
Weight: 91 kg
Regen: 0.2/s
Start the Motor - Very Slow Execution
Your craft has 50% chance to increase or decrease piston speed by 0.5s for 30 seconds.
Cast Time: 2 Seconds
Cost: 18 Energy
Flavor Text
Edit
The outboard motor may be of high quality, but the wagon wheels just won't cut it. For the sake of your craft, get another engine.
Ad blocker interference detected!
Wikia is a free-to-use site that makes money from advertising. We have a modified experience for viewers using ad blockers

Wikia is not accessible if you've made further modifications. Remove the custom ad blocker rule(s) and the page will load as expected.