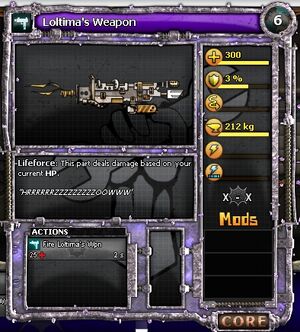 Statistics
Edit
TP Cost: 6
Health: 300
Armor: 3%
Weight: 212 kg
Abilities
Edit
Lifeforce Low: This part deals damage based on your current HP.
Fire Loltima's Wpn - Very Slow Execution
Inflicts a range of 50 to 350 pure damage depending on current HP.
"With great power comes... something something..."
Cast Time: 2 Seconds
Cost: 25 Health
Flavor Text
Edit
"HRRRRRRZZZZZZZZZOOWW"
The name of this wepaon is a homage to the Ultima Weapon, going as far as parodying its name and effect, instead of having higher damage the more HP you have, it does more with the less HP you have.