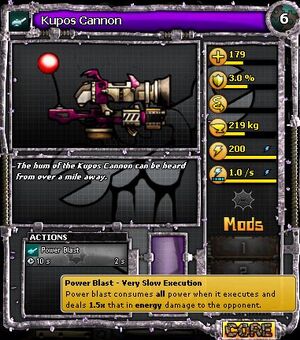 Statistics
Edit
TP Cost: 6
Health: 179
Armor: 3%
Weight: 219 kg
Energy: 200
Regen: 1 / s
Power Blast - Very Slow Execution
Power blast consumes all power when it executes and deals 1.5x that in energy damage to the opponent.
Cast Time: 2 Seconds
Cost: All Energy
Flavor Text
Edit
The hum of the Kupos Cannon can be heard from over a mile away.
Hey, doesn't that pom-pom on the back look familiar, kupo?