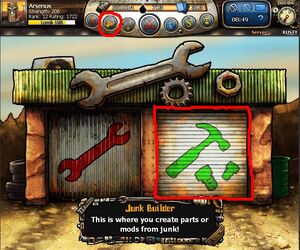 The junk builder is a device to make special parts and mods (check the "location" column).
It has to be unlocked first, by completing the quest Reach Level 20 in the 3rd zone, Krumbl. Then you will get the Junk and You Manual (don't be confused by Rusty talking about it early or even when you already have it, small bug) which automatically fills the Builder with all available "recipes".
In order to make parts & mods, you need 2 components, Blueprints and building materials, aka junk. There are 9 Blueprints and 70 known different pieces of junk for right now.
Rumor has it that people have been finding Blueprints that have not even been released yet in gold junk crates and rare packs.
Happy building!