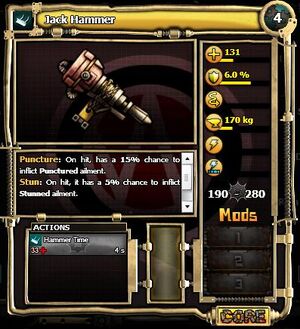 Statistics
Edit
TP Cost: 4
Health: 131
Armor: 6%
Weight: 170 kg
Puncture: On hit, has a 15% chance to inflict Punctured ailment.
Stun: On hit, it has a 5% chance to inflict Stunned ailment.
Hammer Time - Very Fast Execution
You inflict 120 - 280 melee damage.
Cast Time: 4 Seconds

Cost: 33 HP

Flavor Text
Edit
Use your jack hammer to hammer jack.