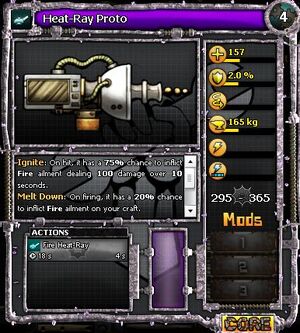 Statistics
Edit
TP Cost: 4
Health: 313
Armor: 2%
Weight: 165 kg
Abilities
Edit
Ignite: On hit, it has a 75% chance to inflict 'Fire' ailment dealing 100 damage over 10 seconds.
Melt Down: Whenever this part fires, it has a 20% chance to inflict Fire ailment on your craft.
(Note: Currently the Fire ailment from these abilities stacks upon itself. This may or may not be a glitch,)
Fire Heat-Ray - Very Fast Execution
Inflicts 295-365 elemental damage over 4 seconds.
Cast Time: 4 Seconds
Cooldown: 18 Seconds
Flavor Text
Edit
Favourite of underground tanning salons and mobile grow-ops everywhere.