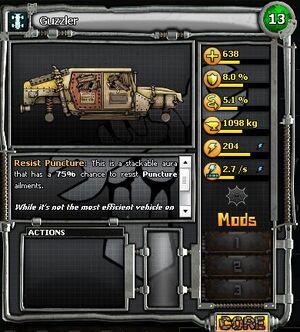 Statistics
Edit
TP: 13
Health: 638
Armor: 8%
Evasion: 5.1%
Weight: 1098 kg
Energy: 204
Regen: 2.7/s
Weapon: 2
Turret: 1
Attachment: 1
Engine: 1
Resist Puncture: This is a stackable aura that has a 75% chance to resist Puncture ailment.
Flavor Text
Edit
While it's not the most efficient vehicle on fuel, it does have a knack for soaking up ballistic damage.
Ad blocker interference detected!
Wikia is a free-to-use site that makes money from advertising. We have a modified experience for viewers using ad blockers

Wikia is not accessible if you've made further modifications. Remove the custom ad blocker rule(s) and the page will load as expected.