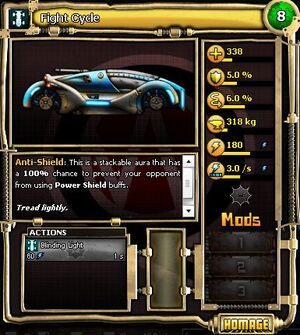 Fight Cycle is part of the Homage Bundle.
Statistics
Edit
TP: 8
Health: 338
Armor: 5%
Evasion: 6%
Weight: 318 kg
Energy: 180
Energy Regeneration: 3/sec
Weapon: 1
Turret: 1
Attachment: 1
Engine: 1
Anti-Shield: This is a stackable aura that has a 100% chance to prevent your opponent from using Power Shield buffs.
Blinding Light - Instant Execution
Blinding Light lowers the opponent's accuracy by 20% and stops their piston for 3 seconds.
Cast Time: 1 Second
Cost: 60 Energy
Flavor Text
Edit
Tread lightly.