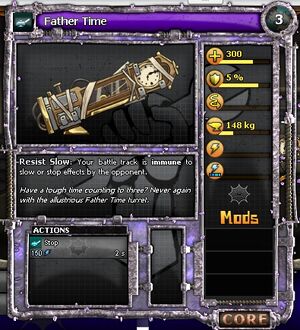 Statistics
Edit
TP Cost: 3
Health: 300
Armor: 5%
Weight: 148 kg
Resist Slow: Your Battle track is immune to slow or stop effects by the opponent.
Stop - Very Slow Execution
You stop the opponent's piston for 10 seconds.
"You got an itchy chrono-trigger finger."
Cast Time: 2 Seconds
Cost: 150 Energy
Flavor Text
Edit
Have a tough time counting to three? Never again with the allustrious Father Time turret.