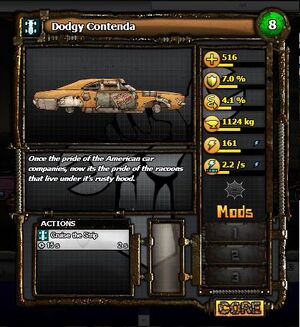 This chassis is needed for the
Dusted!
achievement.
Statistics
Edit
TP: 8
Health: 516
Armor: 7%
Evasion: 4.1%
Weight: 1124 kg
Energy: 161
Energy Regeneration: 2.2/s
Weapon Slots: 1
Turret Slot: 1
Attachment Slot: 1
Engine Slot: 1
Cruise The Strip - Very Slow Execution
You gain 4 regen and 1% HP per second for 10 seconds.
Cast Time: 2 Seconds
Cool Down: 15 Seconds
"Hey baby... check out my faux letter interior and fuzzy dice!"
Flavor Text
Edit
Once the pride of the American car companies, now the pride of the racoons under the rusty hood.
This chassis is a reference to the Dodge Charger General Lee of the TV series The Dukes of Hazzard. The text on the door says "REBEL RAISER" (-> rabble-raiser).
Additionaly Cruise the Strip is the exact opposite of Elwood's Cruise the Blues.
Ad blocker interference detected!
Wikia is a free-to-use site that makes money from advertising. We have a modified experience for viewers using ad blockers

Wikia is not accessible if you've made further modifications. Remove the custom ad blocker rule(s) and the page will load as expected.