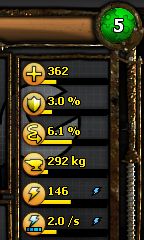 Every Parts card shows the same
values/statistics
such as Health/HP (Hit Points), Armor, Energy Reneration etc.
The number in the upper right corner is the Tech Point (TP) value, it states the TP cost of a part. When the number has a green background it adds TP, all chassis as well as parts with TP Up ability do.
Right now there are 273 parts total in the game, all belong to certain Part Sets.
All items (320)
'
.
2
4
7
A
B
C
D
E
F
G
H
I
J
K
L
M
N
O
P