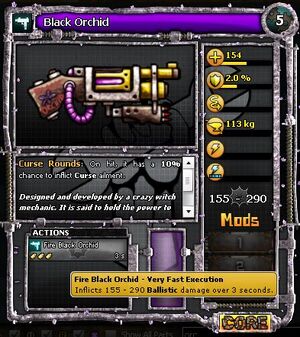 Statistics
Edit
TP Cost: 5
Health: 154
Armor: 2%
Weight: 113 kg
Ammo : 3
Abilities
Edit
Curse Rounds: On hit, it has a 10% chance to inflict Curse ailment.
Fire Black Orchid - Very Fast Execution
Inflicts 155 - 290 Ballistic damage over 3 seconds.
Cast Time: 3 Seconds
Cost: 1 ammo
Flavor Text
Edit
Designed and developed by a crazy witch mechanic. It is said to hold the power to corrupt the very soul of the opponent's craft.