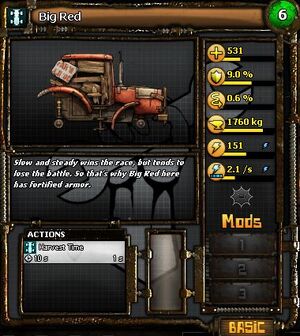 This chassis is needed for the
Farmboy
achievement.
Statistics
Edit
TP: 6
APM: 15
Health: 531
Armor: 9%
Evasion: 0.6%
Weight: 1760 kg
Energy: 151
Energy Regeneration: 2.1/s
Weapon: 2
Turret: 1
Attachment: 1
Engine: 1
Harvest Time - Instant Execution
Removes 1 random buff the opponent has.
Pluck the seeds of power right from them.
Cast Time: 1 second
Cooldown: 10 seconds
Flavor Text
Edit
Slow and steady wins the race, but tends to lose the battle. So that's why Big Red here has fortified armor.
Ad blocker interference detected!
Wikia is a free-to-use site that makes money from advertising. We have a modified experience for viewers using ad blockers

Wikia is not accessible if you've made further modifications. Remove the custom ad blocker rule(s) and the page will load as expected.