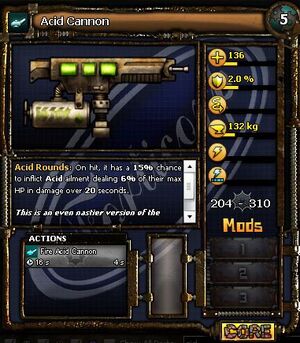 Statistics
Edit
TP Cost: 5
Health: 271
Armor: 2%
Weight: 132 kg
Abilities
Edit
Acid Rounds: On hit, it has a 15% chance to inflict Acid ailment, dealing 6% of their max HP in damage over 20 seconds.
Fire Acid Cannon - Fast Execution
Inflicts 204 - 310 elemental damage over 4 seconds.
Cast Time: 4 Seconds
Cooldown: 16 Seconds
Flavor Text
Edit
This is an even nastier version of the nasty weapon.