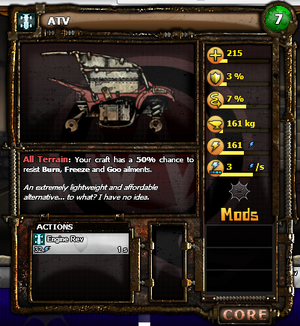 Statistics
Edit
TP: 7
Health: 215
Armor: 3%
Evasion: 7%
Weight: 161 kg
Energy: 161
Energy Regeneration: 3/s
Weapon: 2
Turret: 0
Attachment: 0
Engine: 1
All Terrain: Your craft has 50% chance to resist Burn, Freeze and Goo ailments.
Engine Rev - Instant Execution
You receive +25% evasion for the next 5 attacks you receive, losing 5% per attack.
Cast Time: 1 Second
Cost: 32 Energy
Flavor Text
Edit
An extremely lightweight and affordable alternative...to what? I have no idea.