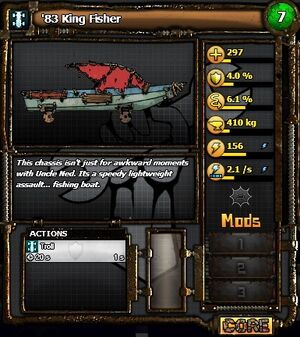 Statistics
Edit
TP: 7
Health: 297
Armor: 4.0%
Evasion: 6.1%
Weight: 410 kg
Energy: 156
Energy Regeneration: 2.1/s
Weapon: 2
Turret: 0
Attachment: 0
Engine: 1
Troll - Very Slow Execution
Trol sends your '83 King Fisher on a little tour around the Brokin bay increasing your crafts evasion by 10% and recovering 100 HP over 10 seconds.
Cast Time: 1 Second
Cooldown: 20 Seconds
Flavor Text
Edit
This chassis isn't just for awkward moments with Uncle Ned. It's a speedy lightweight assault... fishing boat.